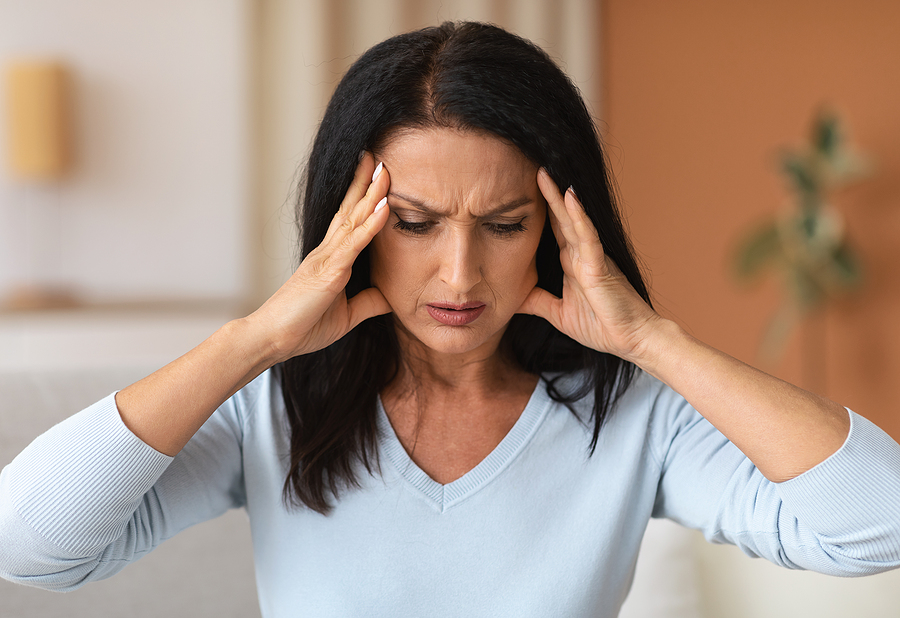 It can be scary when your hormones are out of balance! 
The worse part is that no one told you about this.
Feeling confused by the onset of sudden rage, broken sleep or gushing periods? You may be experiencing perimenopause, and it is time to talk about it.
Often, perimenopause is a more difficult phase than menopause, as fluctuating estrogen and progesterone levels can create a whole range of distressing symptoms.
As no two women seem to experience perimenopause the same way, it can be a time when you may feel confused and isolated. However, for most women, coping with perimenopause is often complex, and if that's you, I'm here to help!
What is Perimenopause?
Perimenopause is designed to move a woman's body from being able to bear children to stopping menstruation altogether. For some women, this can start as early as 35, although it often begins at around age 42 to 45 and usually lasts between 2 – 10 years. It starts with short cycles and heavy bleeding and ends with long processes and light bleeding until menopause officially starts 12 months after a woman's last period.
During this phase, wildly fluctuating estrogen and declining progesterone levels will start to change your menstrual cycle. In the early stages, you may notice that your periods are a bit closer together. They can be every 21 days and often much heavier (sometimes flooding can occur). Hot flushes don't usually occur in the early stages of perimenopause.
In the later stages, you will notice that you start to skip periods and may go months without a period. This is often when women may first begin to experience the hot flushes and night sweats that are typically associated with menopause.
You might also discover that your PMS symptoms have worsened, and this increased irritability is negatively impacting your life and relationships.
These fluctuating hormonal changes reduce our ability to cope with stress, leading to greater states of anxiety, brain fog, depression and insomnia. In addition, extreme amounts of stress can often lead to adrenal fatigue and thyroid issues.
We can also experience an undulating mixture of extremes of hyper-excitability, anger, frustration, stress explosions and irritations, and uncontrollable sobbing or depleted energy and collapse into a heap on the lounge, totally depressed and lacking motivation to do anything.
These fluctuations in estrogen can also affect other aspects of your health. Some women in their 40s find that their allergies worsen, leading to histamine intolerance or for the first time, you might begin to experience cyclical migraines.
Fluctuating estrogen levels can also affect endometriosis and fibroids. In your 40s, you can often be diagnosed with one of these conditions.
These hormone levels changes in your brain and immune system can also lead to a diagnosis of more severe conditions such as depression and fibromyalgia.
Being aware of the changes that occur and learning how to care for yourself through perimenopause is important to how well you transition to menopause and will help you to avoid autoimmune and neurological problems.
Your choices around diet, nutrition, lifestyle and exercise during these phases will also have long-lasting effects on your health and body. Please be aware, that you do not have to suffer in silence. There is no shame in seeking help. The more you understand what is changing in your body and why you are getting symptoms, the more you can do something about it. That's why we need to be talking about it more!!
Some natural treatments that can help to relieve perimenopausal symptoms include reducing caffeine, eating healthier, and being more active in green space outside.
Improving magnesium levels and taurine levels is also very important in helping to support hyper-excitability, stress sensitivity and inflammatory responses, metabolic syndrome (regulating our blood sugar levels to help regulate the weight gain that occurs) and low energy depressive states. In addition, magnesium acts like an antioxidant that helps us recover from stress, so it's essential to replace once depleted.
How can I help YOU?
I'll help you to understand what is happening to you. I know how difficult this time can be as I've also been you. To help balance out your hormones I use a variety of herbs and nutrients to help improve your symptoms. We'll also adjust your diet and support your mindset to make lasting changes.